Were you looking for Party Room 1, Party Room 2, or Party Room 4?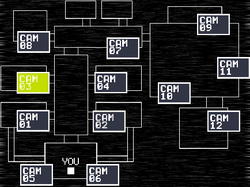 Party Room 3 is a location in Five Nights at Freddy's 2 within Freddy Fazbear's Pizza.
Freddy Fazbear and Toy Bonnie both appear in this room.
Appearance
Edit
The floor of Party Room 3 is made up of black-and-white checkered, shiny tile while the walls are gray with a colorful confetti pattern at the top. There is a stripe of a green and blue checker pattern with a black border more than halfway down the wall, close to the floor.
The room contains two tables covered by white tablecloths with multi-colored confetti patterns and shiny, multi-colored, striped party hats lined up in two neat rows on each table. Bunches of colorful balloons are attached to the tables as well.
A purple poster featuring Toy Freddy, Toy Bonnie, and Toy Chica that reads "CELEBRATE!" can be seen on the back wall.
As with the other Party Rooms, the floor is splattered with some strange, dark substance, and the same substance appears to be smeared on the walls in various places, and thick, shiny, black wires hang from the ceiling and across the camera.
Ad blocker interference detected!
Wikia is a free-to-use site that makes money from advertising. We have a modified experience for viewers using ad blockers

Wikia is not accessible if you've made further modifications. Remove the custom ad blocker rule(s) and the page will load as expected.